How does the Emburse Spend integration with Xero work?
Emburse Spend integrates seamlessly with Xero, syncing in data for both reimbursable and corporate card expenses, eliminating manual data entry and saving you tons of time.
How does the sync work for reimbursable expenses (Cash Mode)?
Emburse Spend processes reimbursements via batched ACH transfers on a nightly basis
When the ACH transfer is initiated via expense approval, we push a Bill & Bill Payment into Xero for the same transfer amount, making reconciliation easy
To reconcile debits from Emburse Spend , click the "reconcile" button on the Bank Operating account. This will take you to the Reconciliation tab, where you can click "OK" to match Emburse Spend Debits with the Bank feed.
To give you a better idea of what this will look like, these screenshots show you how to navigate this process in Xero from the Accounts tab.
First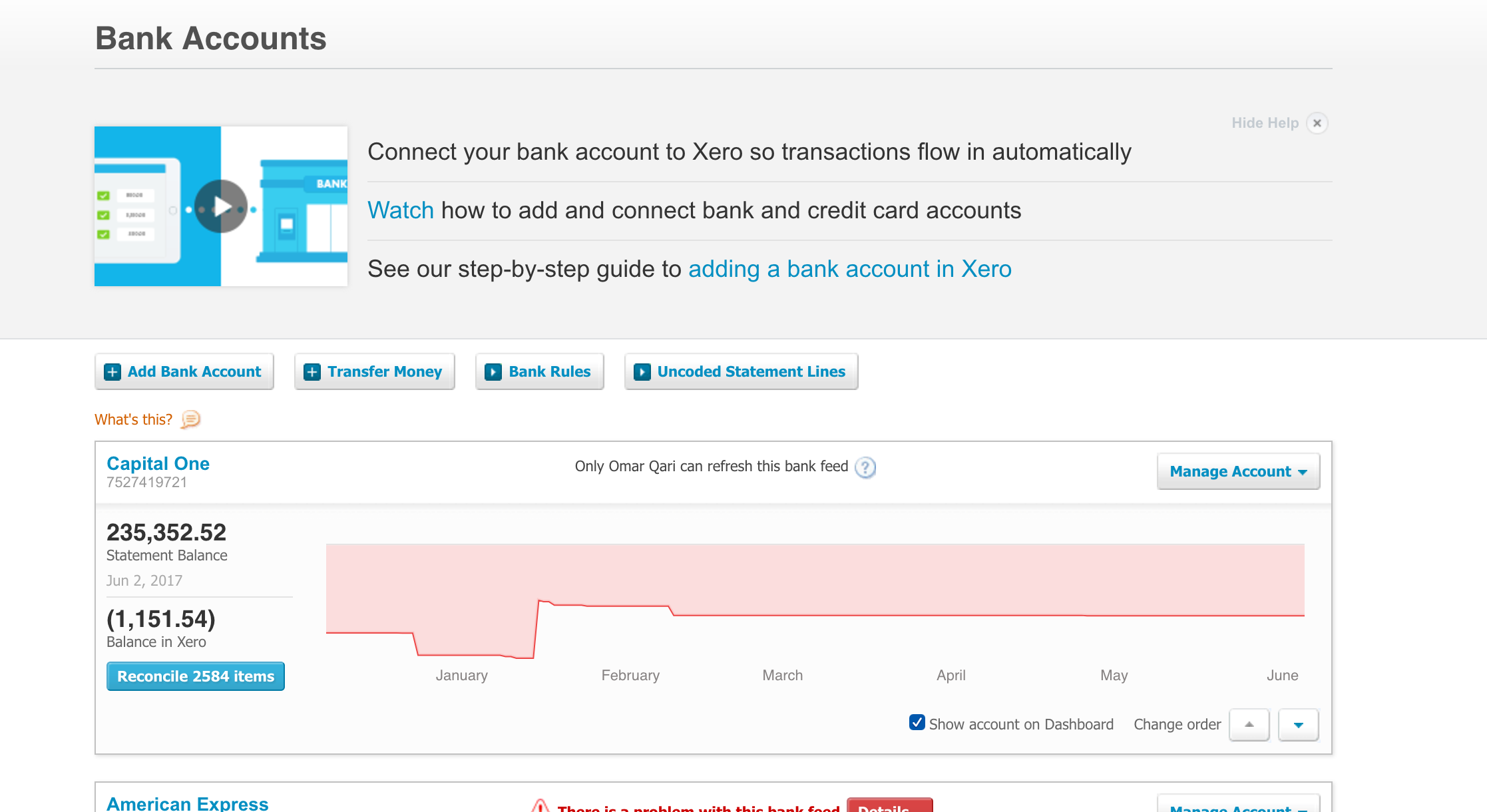 The account transactions tab allows you to view the entire history of all line items and their reconciliation status. Navigate there by clicking Accounting > Account Transactions

A bill will appear under Business > Bills to pay as a batched debit with individual expenses for each line item. Clicking on an individual Bill will show all items that make up the ACH withdrawal.
Each bill will have a corresponding bill payment. Emburse Spend will appear as the vendor on both.
How does the sync work for reimbursable expenses (Accrual Mode)?
With the accrual sync, we will create a new Purchase Transaction for each expense against an Emburse Spend Clearing account, and each transaction is dated based on the date of the expense. We will also create a "Bank Transfer" in the amount of the associated debit from your bank register to the Emburse Spend Clearing account.
Each time we debit the company bank account, we will also create a bank transfer from the Emburse Spend Clearing account to your Operating Bank Register (where debits come out of). You will need to reconcile the bank transfer with the debit in your Bank Register.
The total balance of your Emburse Spend Clearing should always be Zero.
The purchase transactions (i.e. expenses) will come into the clearing account as 'reconciled.' The bank transfers will be 'unreconciled.' Reconciling the bank transfers in the Accrual Method is a two-step process:
In your Operating Bank Register, match the bank transfer to the corresponding bank debit.
In the Emburse Spend Clearing Account, mark the bank register, and manually reconcile the transaction (this can be done in bulk).
If you click on the individual Transfer you can mark as reconciled.
Corporate Cards
Emburse Spend will sync corporate card transactions to Xero after they are reviewed and approved by an admin. Transactions need to be coded and submitted by an employee or delegate, and then approved by an admin, before Emburse Spend syncs the transactions to Xero.
The corporate card transactions should be sent to the corresponding bank register, where they will match up against the corresponding transaction for fast and easy reconciliation.
To navigate to corporate card transactions, click on the Corporate Card Register, and then click on the Reconciliation Tab.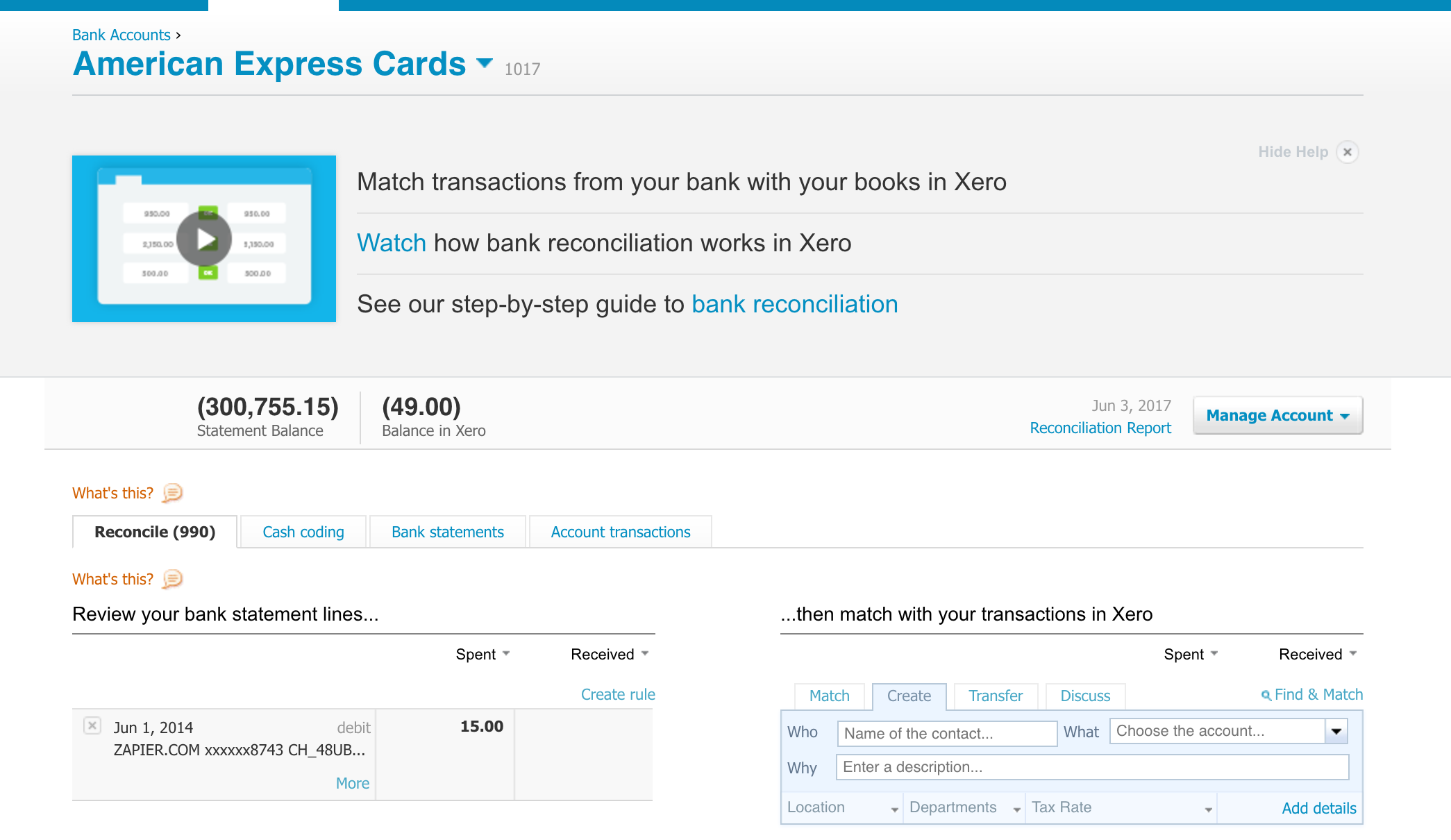 The Reconciliation Tab is where corporate card transactions will be automatically matched with Emburse Spend expenses. To reconcile, just click "OK" where the transaction has been recognized as a match.
To Reconcile: hit OK to match
If there is not a match, click Match > Find and then Match > Choose Other Transactions Manually.
The Account Transaction tab allows you to view history of all corporate card expenses:
You can click into each expense to view details.
Viewing the chart of accounts to track expenses by category:
Accounting > Chart of accounts
Click on Account to view any expenses in that category.
Supported Account Types
| | | | | |
| --- | --- | --- | --- | --- |
| Type | Description | Available in Categories | Available in Bank | Available in Corporate Cards |
| BANK | Bank account | | x | x |
| CURRENT | Current Asset account | x | | |
| CURRLIAB | Current Liability account | | | |
| DEPRECIATN | Depreciation account | | | |
| DIRECTCOSTS | Direct Costs account | x | | |
| EQUITY | Equity account | x | | |
| EXPENSE | Expense account | x | | |
| FIXED | Fixed Asset account | x | | |
| INVENTORY | Inventory Asset account | | | |
| LIABILITY | Liability account | x | | |
| NONCURRENT | Non-current Asset account | x | | |
| OTHERINCOME | Other Income account | | | |
| OVERHEADS | Overhead account | x | | |
| PREPAYMENT | Prepayment account | | | |
| REVENUE | Revenue account | | | |
| SALES | Sale account | | | |
| TERMLIAB | Non-current Liability account | x | | |
| PAYGLIABILITY | PAYG Liability account | | | |
| SUPERANNUATIONEXPENSE | Superannuation Expense account | | | |
| SUPERANNUATIONLIABILITY | Superannuation Liability account | | | |
| WAGESEXPENSE | Wages Expense account | | | |
| WAGESPAYABLELIABILITY | Wages Payable Liability account | | | |