How to Resubmit a Denied Expense
In the review process, an Admin or manager may choose to deny your expense if information needs to be added or edited. You can find expenses that have been marked as 'Denied & Resubmittable' on the 'Reimbursable Expenses' page of your Emburse Spend account. If an expense has been 'permanently denied', you will not see the option to 'edit & re-submit'. Please note that corporate card expenses cannot be 'permanently denied' and as such will always be 'Denied & Resubmittable'.
Resubmitting a Denied Expense using a Web Browser
Denied expenses can be found in the 'Completed' section at the top of the page. Once you locate the expense in need of resubmission, click the menu to find the 'Edit & Resubmit' button:
Clicking this button will expand the expense so that you can make any necessary changes and then send it back to the approver for review.
Additionally, you can use the 'Advanced Filter' feature to filter for any 'Denied & Resubmittable' expenses.
Resubmitting a Denied Expense using the Mobile App
On your mobile device navigate to your 'Expenses' tab and locate the 'Completed Expenses' section towards the bottom of the page. You may need to scroll to find the denied expense.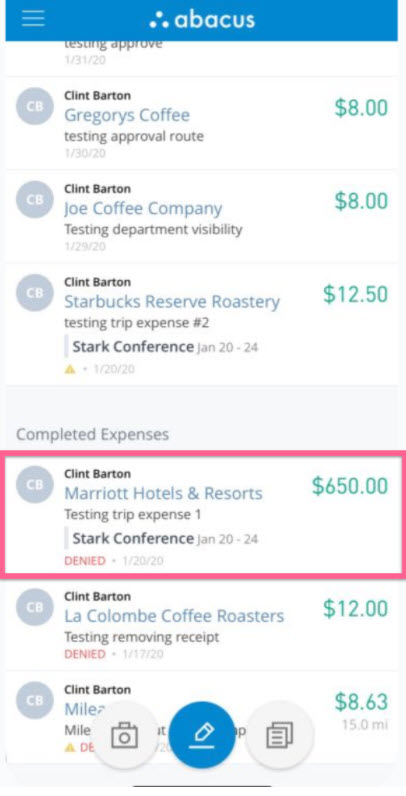 Tap on the expense you would like to resubmit, which will open the expense submission form. Tap 'Edit & Resubmit' to make changes and send them back to your admin for review.