Connecting an Amex Corporate Card Program
The Cards Program feature allows Admins to invite all American Express card users to integrate their corporate card with Emburse Spend. This allows central management for each of the cardholder's corporate cards and gives real-time insight into corporate card spending.
Please Note: If your team does not have individual login credentials, please get in touch with your bank representative. Or, run an online search for "Enroll in Online Banking + American Express".
Connecting a Card Program
To add an American Express card program to your account, navigate to the Card Programs page and click Add Card Program.

Select American Express from the options provided.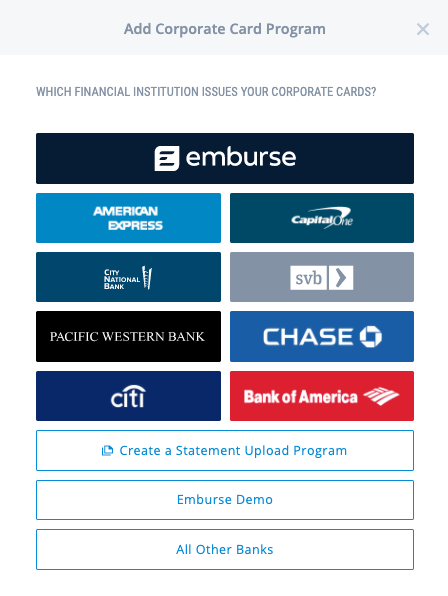 From here, Admins can choose from one of three Amex card program options: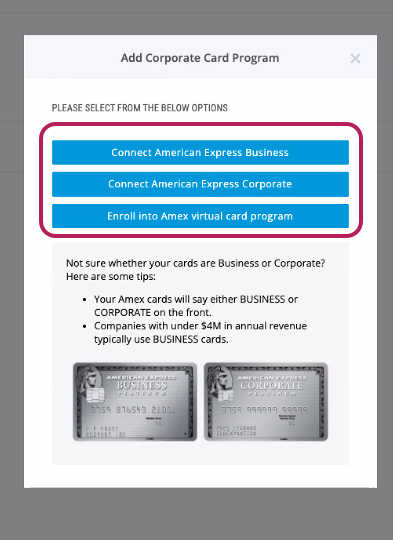 Amex Business – Connects the card's transaction history, but does not include the managing of physical or virtual cards.
Amex Express Corporate -- Requires Admins to provide login credentials to connect to the full card program. These primary login credentials are created when the account is initially created.
Amex Virtual Card Program-- Integrates fully with Emburse Spend and triggers the Amex Enrollment process. Admins must be the primary holder of the card account to enroll.
After selecting a card program type, the card account appears at the top of the Card Programs page.
Adding Virtual Amex Cards
Selecting the Amex Virtual Card Program allows admins to invite team members to connect their Amex cards by selecting New Card.

Admins should invite all users who hold an Amex corporate card.
Please Note: Users must be enrolled in Emburse Spend before adding a corporate card. Users receive a prompt to connect their card the next time they log in to Emburse Spend.
Managing Cards
On the Team Cards page, click the applicable card account to open the Card Details page. From here, Admins can Pause or Cancel a card, Edit the card information, or view the cards Transaction History.

Sync Corporate Card Feeds to Accounting Systems
On the Accounting Sync tab of the Account & Settings page, Admins can connect either a single card feed, or multiple card feeds to the integrated accounting software.