Managing your team on the People page
The People page is where administrators manage their teams. Admins can invite new members, organize members into groups, adjust user permissions, and deactivate accounts.
Inviting people to your account
To invite people to your company's Emburse Spend account, you'll need to send out a unique invitation so that person can join the official company account. This could be employees, accountants or outside contractors. Each new member will receive an email invitation and must use the link in the email to join the company account.
Click on the "Admin" tab in the top left-hand corner of the navigation bar to access your company account, and then click on the "People" section in the Admin navigation bar. If you don't see this menu, please click on the Emburse Spend logo in the upper left-hand corner.

Once you are in the "People" section, click on the blue "Invite Team Members" icon in the top right corner of the blue top bar. This will prompt you to type in the end-user's email and add an optional note. You can invite more than one end-user at a time by separating email addresses with a comma.
Advanced options for inviting Team Members
There are two additional options when inviting team members to your Emburse Spend account. To view them, click "advanced" below the note field.
Schedule Deactivation Date
If you would like to invite an end-user to the account for a temporary amount of time, you can schedule a deactivation date in advance. This comes in handy, especially for recruiting candidates who have limited time to interview on-site.

Sending Email Invitations Later
At the bottom of the window, you can toggle "NO" given the option to send the email invitation now. This will allow you to configure your Emburse Spend account before new members join. This comes in handy, particularly during account configuration - Admins can set up manager relationships, departments, and rules prior to employees setting up their accounts.

Once your team members set up their accounts, they will appear on the People page. Use the filters and search bar at the top of the page to sort through all members.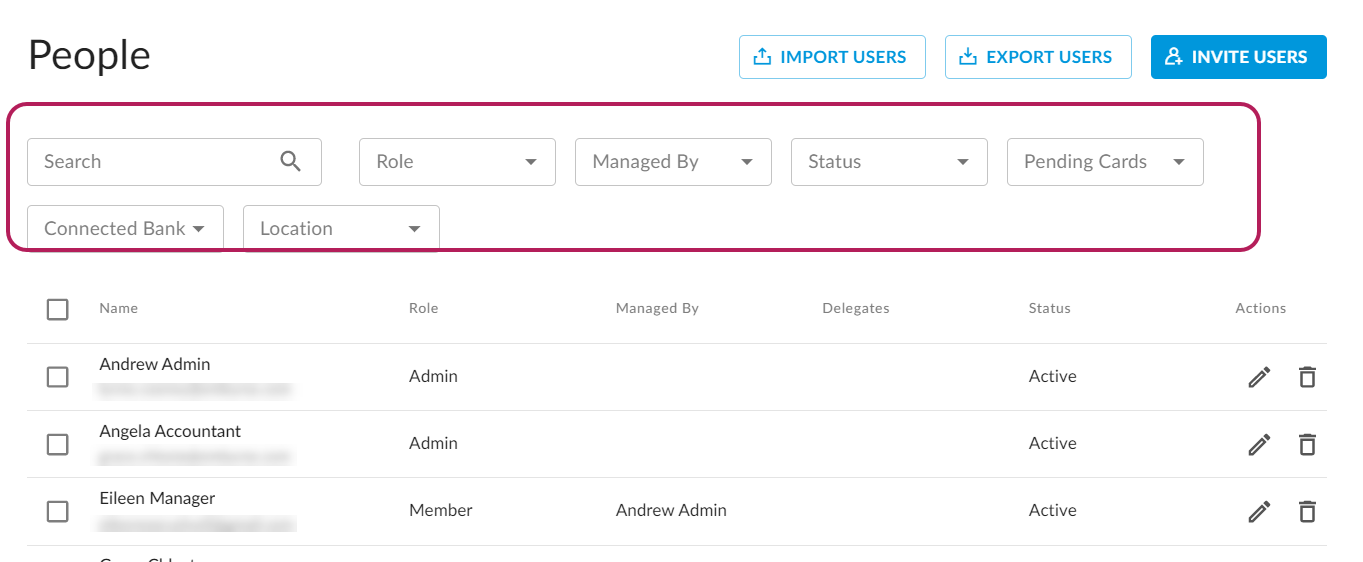 Editing an employee's profile:
Click the pencil icon next to someone's name to view their profile settings.
From here, assign them a role as an Admin, Manager, or Member. Next, determine who they are managed by, any delegates they might have, and edit their Team Fields.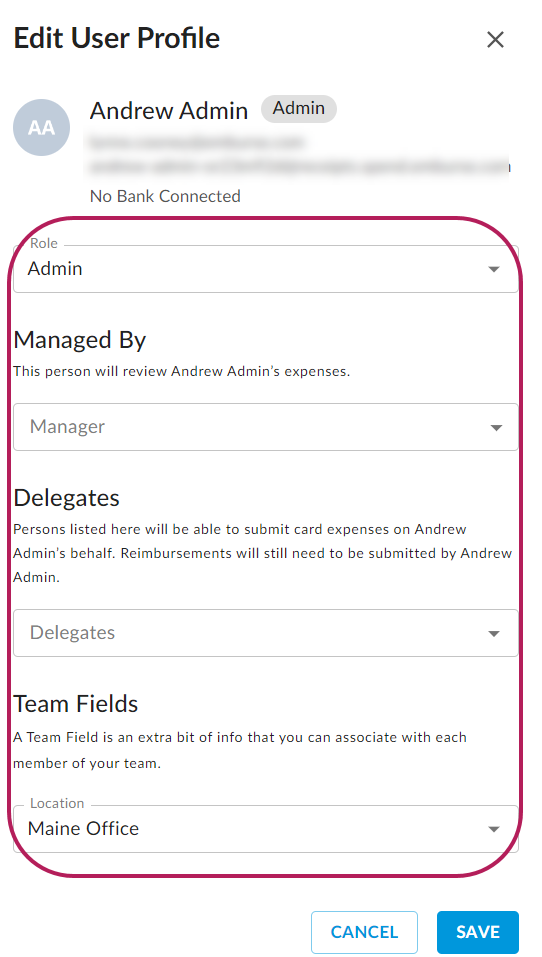 Learn more about the difference between admins and managers here.
Learn more about Team Fields here.
Using a Bulk Action
Admins can select multiple people before performing a particular action. This includes granting admin status, assigning or changing managers, deactivating accounts, or editing Team Fields. After selecting teammates, click Edit to take the desired action on that group of people.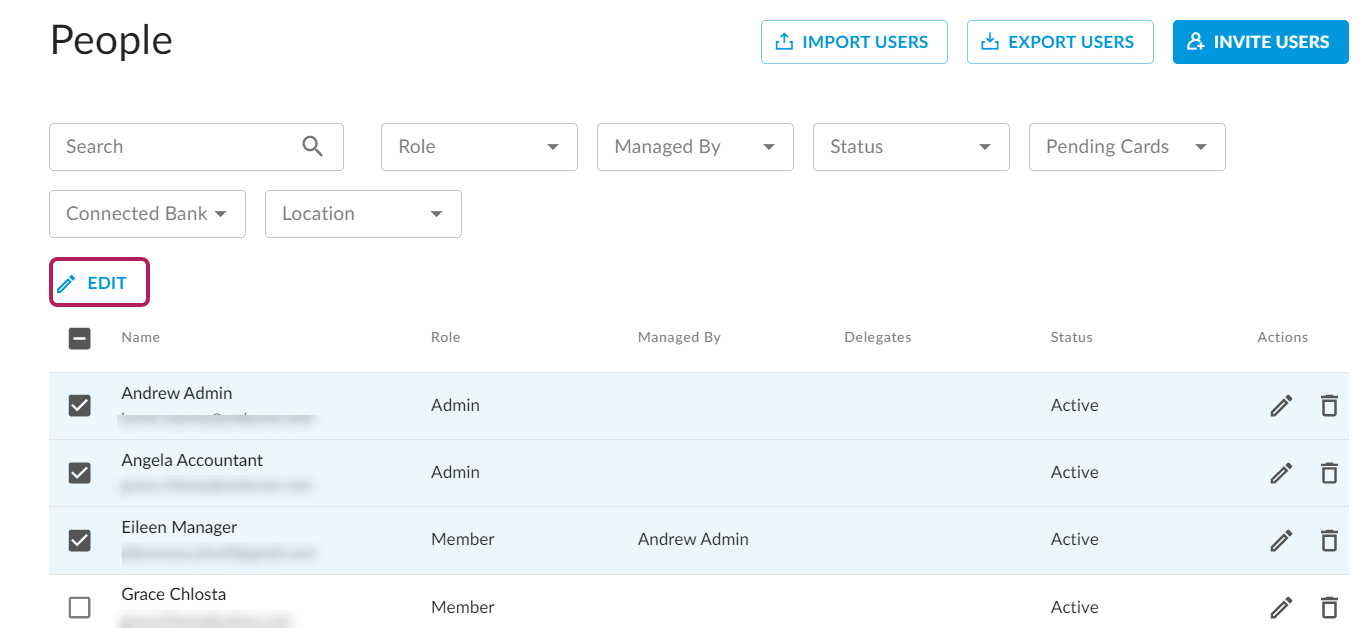 Note that you must check the box next to the item in order to make changes to that part aspect of the employees' profile: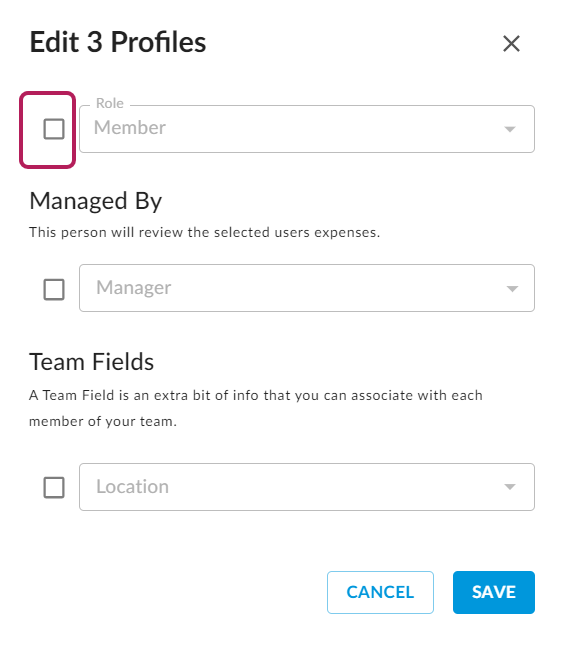 How To Deactivate an End- User
Deactivating an end-user in Emburse Spend means that they can no longer log in to their account. However, if they have outstanding expenses, they can still be paid out so long as there is still a bank account connected. The account can always be re-activated.

To deactivate a member from your account, simply delete them from the People list.

To view deactivated employees in your account, click on the "Deactivated" section under Status on the right side of your people page.