Connecting a Corporate Card Program
*This feature is only available to customers with one of the Spend Plus packages*
This feature allows an admin to invite all corporate card users to connect their company cards. This allows central management of each of your cardholder's corporate cards and gives you real-time insight into corporate card spend.
Prerequisites
If you are using Business Tier cards, this feature is contingent upon each cardholder having their own set of login credentials for all financial institutions excluding American Express, Bank of America, Capital One, Chase, and Citi.
If your team does not have individual login credentials please get in touch with your bank rep or just run an online search for "Enroll in Online Banking + Bank Name".
Find your Bank
Step 1: To add a card program to your account, start by navigating to Card Programs via the Company Settings sidebar.
Step 2: Click the "Add Card Program" button.

Step 3: Select or search for your bank: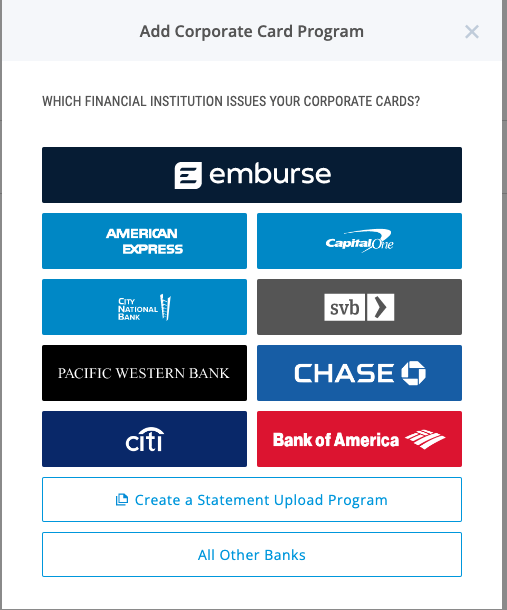 We offer direct integrations for all commercial tier programs, as well as all City National Bank, Square 1, and Silicon Valley Bank cards. If you are using a commercial tier program, please contact Support to get started.
Companies with American Express, Bank of America, Capital One, Chase, and Citi business cards will only need the master or authenticating login credentials to connect the full card program. These are the primary login credentials that were created when the account was initially set up. Once connected, Emburse Spend will pull in all cards as long as transactions on the card have posted.
If you select "all other banks" you'll be asked whether your cards are Commercial Tier or Business Tier. If you're not sure, having a dedicated bank rep probably means your cards are Commercial Tier, and you can ask them to confirm.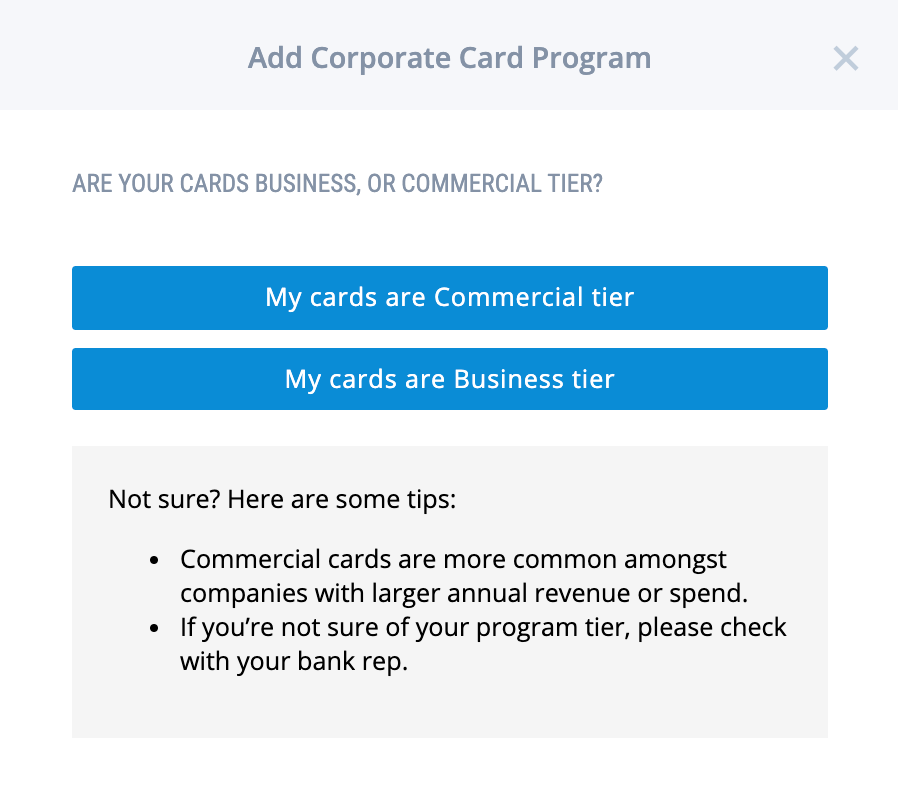 For business tier cards, search for your bank: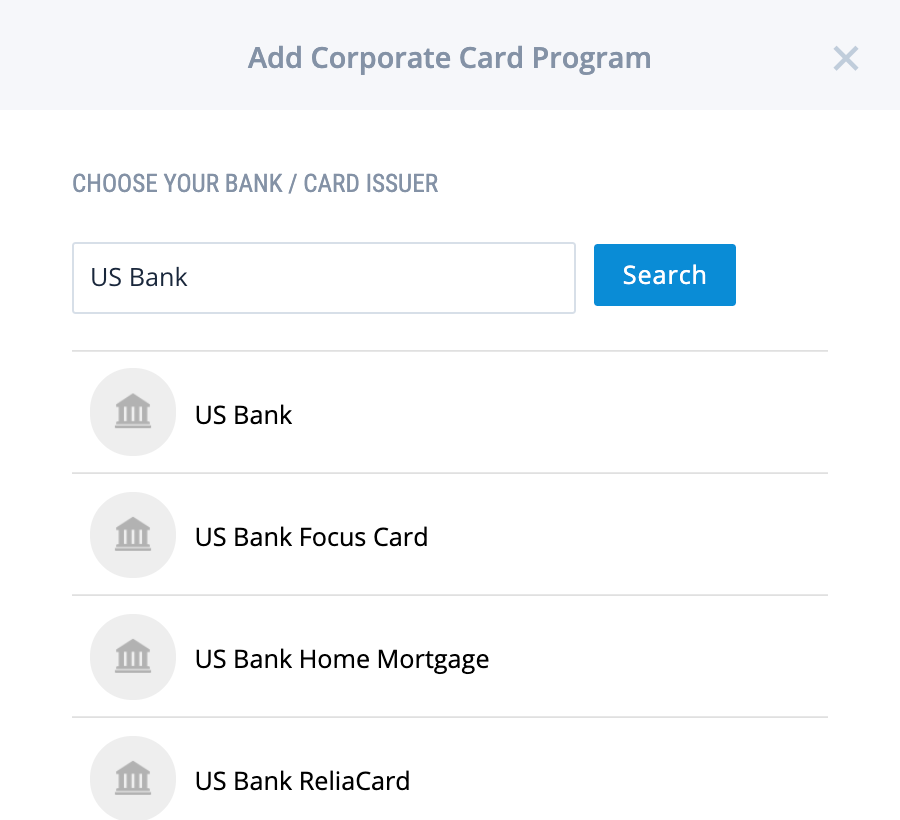 Step 4: After choosing your bank, you can select a transaction pullback date. This will be the default "start date" for all of your cardholder's transactions when they connect their cards to Spend.
Add Cards
After you've selected your bank, you will see the card account appear at the top of the Team Cards page.

To invite a team member to connect their card, select "Add Cards"
You should invite all team members who hold a corporate card. They will receive a prompt to connect their card the next time they log in to Emburse Spend.
Please note that the team member must also be invited to Emburse Spend before you add their corporate card.
The "Connect Your Corporate Card" button will take them to a portal where they can enter their corporate card login credentials, and connect the new card. The cards will show up in the personal accounts of the employees who've been assigned a card, and you will be able to view all card activity on the Team Cards page.
Manage Cards
By selecting "Manage Cards", you'll see this module appear. Once a card is connected, you'll have the option to re-assign and remove cards as you need.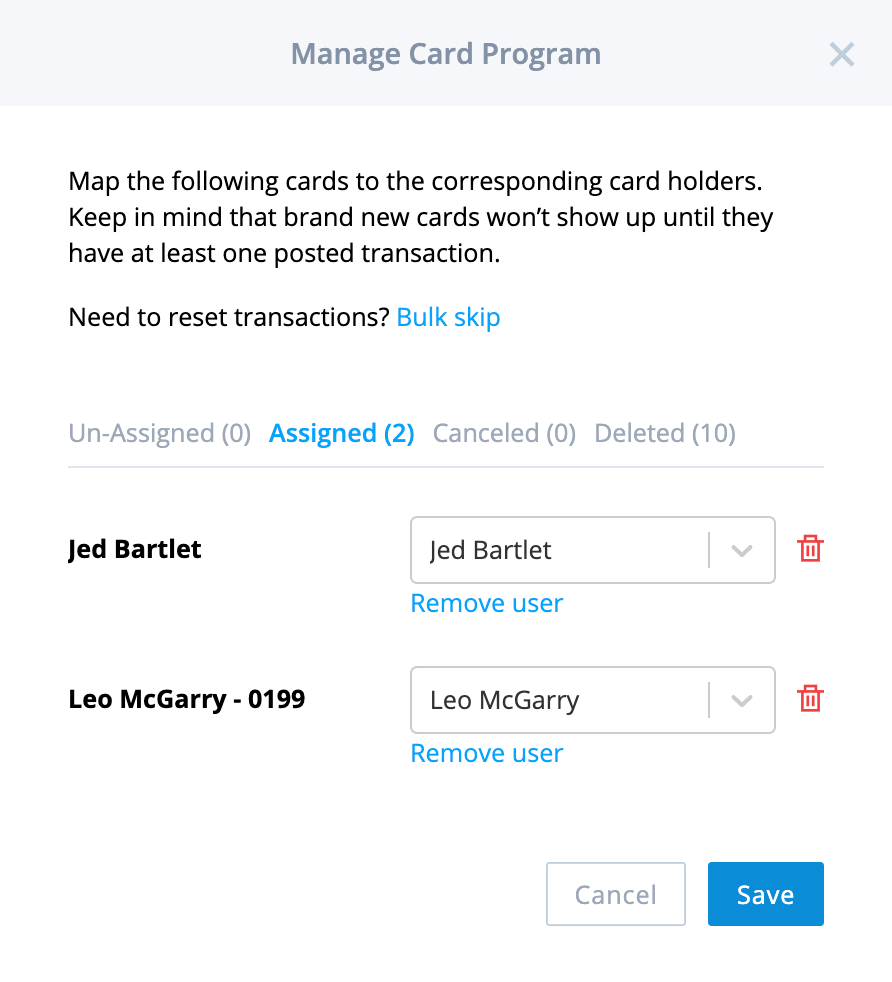 Sync Corporate Card Expenses to Accounting Software
If you have a sync set up with your accounting software, you can choose to connect to a single card or multiple card feeds.
To set up card feeds, scroll to the bottom of the Accounting Sync tab of your Company Settings.
If you have one card feed in your accounting system, select the second option.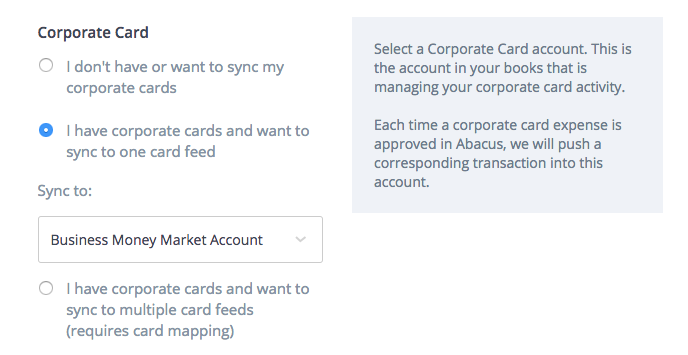 If you have multiple card feeds in your accounting system, select the third option. You will need to map each card to the correct feed. Click 'none' to view a drop-down menu of available card feeds. Click 'Save' once each card is mapped.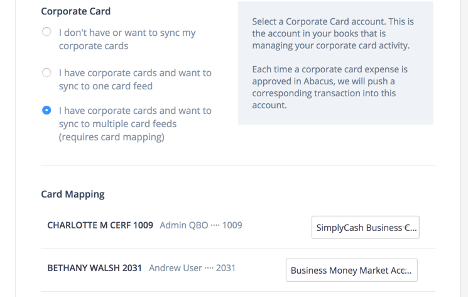 Once you have set up your card feed, transactions will be synced into your accounting software once they are approved by an admin and automatically matched to the card feed. Selecting your card feed here is required for the sync to match transactions to the correct card feed in your accounting platform.